eCharge4Drivers launched the activities of its External Interest Group (EIG) in 2021, which was set up to provide expert feedback on the project's innovative solutions. Since the kick-off webinar of the EIG in 2021, two successful workshops have been organised in Vienna and Berlin, and a new workshop is planned in Barcelona in June.
The eCharge4Drivers External Interest Group comprises different stakeholders with expertise on EV charging and an interest in adopting the project's findings. The EIG acts as a user and observer group, to assess and validate eCharge4Drivers concepts and results through independent expert advice, and supports the replication activities of the project by providing feedback on the potential replicability of the project's innovations. Through workshops and technical visits of the demo sites of the project, the members of the EIG provide valuable input to the consortium.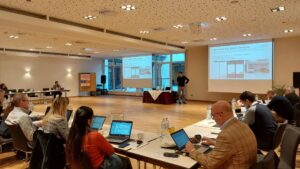 The first in-person EIG workshop was held in Vienna on 14 December 2022. The workshop was a crucial opportunity for the EIG members to catch-up, discuss, and discover more about the user-friendly and innovative solutions and services that are tested in the ten demonstration sites of the project. From mobile charging and battery swapping services to enhanced smart charging, EV charging location planning tools and more, the workshop covered a wide array of topics related to eCharge4Drivers.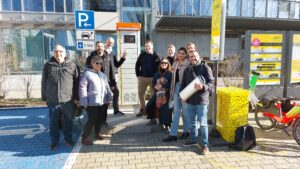 More recently, eCharge4Drivers welcomed the EIG members in Berlin on 28 February. Hosted by Swobbee, this was a unique opportunity to learn more about the innovative battery-charging services that are implemented and tested in the German capital. Moreover, participants also had the chance to learn more about the Barcelona use case, more focused on B2C, while Berlin is B2B. Attendees also received first-hand information and data, learning and exchanging knowledge on innovative battery-charging services and facilitating the uptake of electromobility.
The next EIG workshop will take place in Barcelona on 29 June and will focus on the demonstration activities of the project in this demo site, which include user-friendly charging stations, smart charging areas, an enhanced route planner and EV charging location planning tool.
Stay tuned and follow eCharge4Drivers on Twitter and LinkedIn to stay informed about the next EIG workshops.