eCharge4Drivers had the opportunity to showcase the smart charging services developed as part of the project at the EUCAR Reception and Conference 2023. The event took place from 3 to 5 May in Brussels at the Autoworld Museum, with the presence of top-level representatives from the transport industry.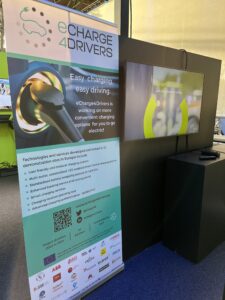 The eCharge4Drivers exhibition stand attracted the attention of the attendees who could learn more about the achievements and results of the project's demonstrations in Belgium, Spain, France and Luxembourg. Among the innovations showcased, attendees could discover the user interfaces tested in Barcelona and at CEA-INES in France, the smart charging system implemented in Luxembourg by Nexxtlab, which integrates user preferences and optimises charging based on a local renewable energy forecast, and two specific smart charging services focusing on microgrid optimisation and better integration offering lower cost to the user developed in Zellik (Belgium) by VUB.
If you missed the event, you can download the eCharge4Drivers presentation here.