echarge4Drivers session at the ITS World Congress
Oct 14 @ 11:00 am

-

12:30 pm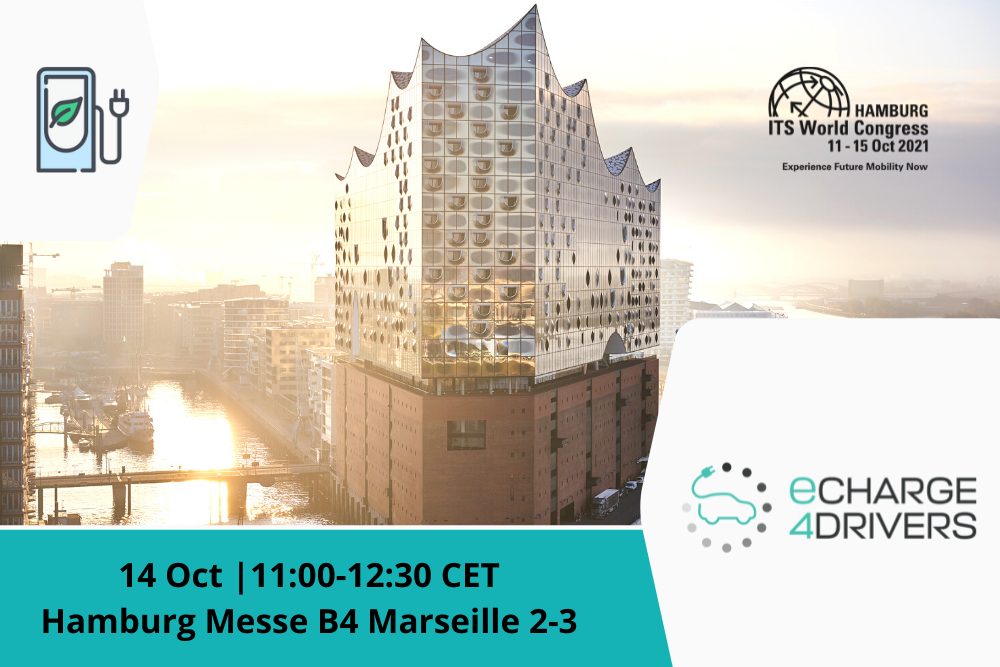 Join eCharge4Drivers in one of the first live events of 2021! The project will present the Special Interest Session (SIS) titled 'User-friendly, sustainable charging technologies and services promoting e-mobility concept in urban environment' at the ITS World Congress in Hamburg, Germany.
This e-mobility session will present user-centric, enhanced charging technologies and services towards promoting e-mobility concept in the urban environment and ensuring the sustainability of the charging solutions. The charging technologies and services to be discussed will address the three major concerns for the wide deployment of electric vehicles – the increased cost of electric vehicles, the inadequate (public) charging network and user acceptance issues.
The key challenges to be addressed during this e-mobility session are:
✓ Improving charging comfortability by designing user-centric charging technologies and services.
✓ Enabling interoperability of services with seamless interfacing among the diverse e-mobility services.
✓ Promoting smart charging solutions unlocking a variety of business opportunities and facilitating cross-sector synergies.
✓ Supporting the wide deployment of charging infrastructure by offering e-mobility tools for the sustainable and efficient charging network development.
Click here to view the programme.
Find out more about eCharge4Drivers' presence at the 2021 ITS World Congress on Twitter and LinkedIn!
eCharge4Drivers, easy charging, easy driving!